Warsaw is the capital of Poland was once known as "Little Paris".
When the city had to be reborn after World War II, it was called "the City like the
Phoenix rising from the ashes".
Today Warsaw is a metropolitan centre with a population of 1.7 million that develops and changes everyday. It is a vibrant 24 hrs a day city, seven days a week.
Many skyscrapers sit next to church towers and a slim profile of Warsaw Palace of Culture and Science create a wonderful panorama of the capital.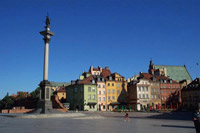 The Royal Track starts at the Castle Square, next to St. Anna's church. The temple was erected in the 15th century and has also been reconstructed many times.The present form was designed by Christian Piotr Aigner and Stanislaw Kostka Potocki during the reign of King Stanislaus II Augustus Poniatowski.Its interior shows a fantastic cross-section of many art epochs. There are numerous Baroque frescos, Renaissance chapels and examples of Gothic presbytery.