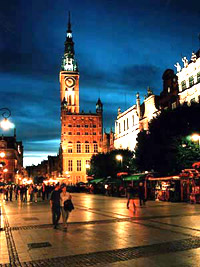 The most attractive monuments are found along the Royal Way, including Long Street (ul. Dluga) and Long Market (Dlugi Targ) lined up with richly ornamented old houses and public historical buildings.

The Gothic Town Hall houses the Historical Museum of Gdansk. The showpiece is a carillon, a replica of the 13th century instrument. The Artus Court, one of the most magnificent buildings of this type in Europe. The Neptune Fountain a symbol of Gdansk. On the Motlawa River waterfront stands the conspicuous Gdansk Crane - the biggest port crane in medieval Europe.

The Gothic St Mary's Church is the largest old brick church in Europe (view from the tower) which can host 25,000 people. Worth a visit are the Gothic St Catherine's Church and the Oliwa Cathedral famous for its 18th century organ. The Oliwa monastery buildings shelter interesting museums.The Monument to The Shipyard Workers was erected in memory of the workers killed in the riots of Solidarity movement.
Additional attractions of Gdansk include sandy beaches, sea cruises and a wealth of cultural events: international organ festivals, street fairs, parades, shows of street theatres.